Smooth Geomembrane HDPE liner
| | |
| --- | --- |
| Category | Geomembranes |
| Country of origin | China |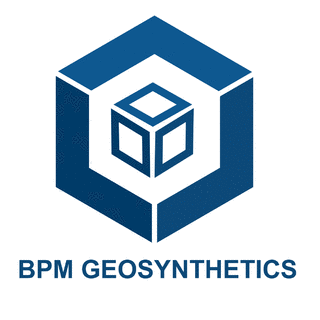 The Best Project Material Co Ltd
No. 59 Mingtang Road, Taishan Technology and Culture Industrial Park, Taishan District, Shandong, China
Description
Smooth Geomembrane HDPE liner is the low permeable synthetic membrane liner and geotechnical engineering materials which are widely used for solid waste containment, mining and water containment applications. BPM smooth geomembrane HDPE liner is made of finest quality high density polyethylene (HDPE) with specially formulated, virgin polyethylene resin, combined with specified quantity carbon black, antioxidant, anti-aging agent and UV resistance components, which makes our smooth geomembrane HDPE liner with excellent resistance to UV radiation and is suitable for exposed conditions.

Our smooth geomembranes are fabricated by the state of the art automatic geomembrane production lines and advanced three layered pressing technology in accordance with GRI GM13 standard. Compared with traditional concrete, asphalt and compacted clay, smooth geomembrane HDPE Liner has proven to be far more cost effective, environmentally safe, excellent durable, chemically resistant, fast deployment and easy transportation.

BPM Smooth Geomembrane HDPE Liner Features:

• Excellent chemical resistance.
• Outstanding stress crack capacity.
• Lowest permeability.
• Excellent UV resistance.
• Stable low temperature embrittlement resistance.
• Complete width and thickness specifications.
• Cost effective.
• Proven performance.
• Fast deployment.
• Easy transportation.
• Meet or exceed all aspects of GRI GM13.

Applications of BPM Smooth Geomembrane HDPE Liner:

BPM smooth HDPE geomembrane liner is widely used for canal, aquaculture, irrigation ponds and remediation liners, other liner applications include landfills, waste water treatment lagoons, oil and gas exploration, power plants, etc al.

Aquaculture. Geomembrane liners can be used as fish ponds, shrimp pond and other aquacultures.

Landfills. Bottom landfill liner, landfill sealing cover, leachate regulating pool liner, etc.

Water Treatment System. Smooth Geomembrane is applied to the adjustment of the power plant and sewage treatment pool or water treatment system.

Mining. HDPE Geomembrane is applied for mining industry as washing pool, pool heap leaching, heap yard, dissolving tank, storage tank, the bottom of the tailing seepage control, etc.

Other Applications. Environment protection and sanitation, water conservancy, municipal projects, landscaping, petrochemical industry, salt industry, agriculture, etc.