Textured HDPE Geomembrane
| | |
| --- | --- |
| Category | Geomembranes |
| Country of origin | China |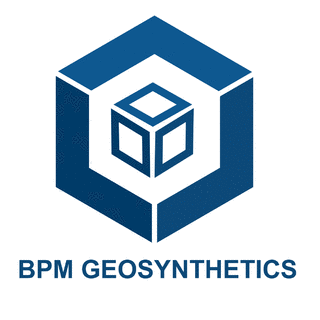 The Best Project Material Co Ltd
No. 59 Mingtang Road, Taishan Technology and Culture Industrial Park, Taishan District, Shandong, China
Description
Textured HDPE Geomembrane is designed and fabricated with either single-sided or double-sided textured surface. Textured geomembrane has a rough surface which can highly improve the friction coefficient which fits more suitable for steep slope and vertical engineering design work which maximize the effective volume of geomembrane, they are also proceesed with smooth edges to allow for high quality thermal fusion welding between adjacent sheets. BPM Brand high-density polyethylene textured geomembrane exhibits superior shear strength and the highest multi-axial performance which features superior high shear strength, big friction angles, outstanding elongation and highest interface surface friction coefficient.

All textured geomembranes are made of imported raw material with advanced manufacturing equipment and professional production technology, they are packed in double woven geotextile and strength belt. BPM textured HDPE geomembranes are widely applied for such projects which need increased friction between two layers and high steeper slopes as landfills, mining, retaining backfills and waste containment.

HDPE Textured Geomembrane Features:

• Can be textured on one or both sides for your demands.
• Increased frictional coefficient for steep slopes.
• Outstanding ultraviolet and chemical resistance.
• Outstanding UV Environmental stress crack resistance.
• High tensile strength and low elongation.
• Excellent friction coefficient and tensile strength with Geotextile reinforcement performance.
• Excellent water impermeability, corrosion and aging resistance.
• Advanced stabilization.
• Impermeable, antifouling, antiskid function.
• Light weight, easy construction and good overall continuity.

Applications of Textured HDPE Geomembrane:

Textured HDPE geomembrane is specially designed and fabricated for landfills and mining applications due to its advanced stabilization, excellent interface friction coefficient and inherent flexibility. As flexibility as our other BPM geomembrane, textured HDPE geomembranes have been widely in backfilled liner, retaining backfill on steep side, heap leach pads, landfill and pad base liner, water conservancy applications such as dam, reservoirs, sewage pools, swimming pools, buildings, underground buildings, garbage dumps and mining projects.