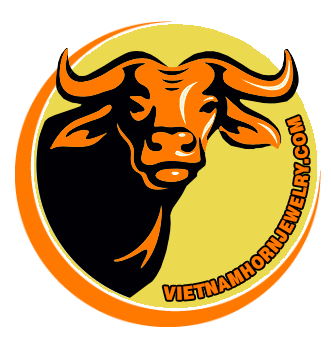 Send message
About
VIETNAMHORNJEWELRY.COM is a Division of ARTEXIM HANOI CO., LTD - A Manufacturer/ Exporter of the Finest Eco-friendly Handcrafted Home Deco, Giftware and Fashion Accessories in Vietnam.

We offer a diverse collection of handmade jewelry for all occasions and daily use. Our products are Necklaces, Bracelets, Earrings, Rings, Pendants, Hair accessories, Gifts, Spoons & Forks,… made from Buffalo horn, Cow horn, Seashell,…

Our Horn Jewelries are handmade 100%, We only use real Buffalo & Cow horn/bone, we never use plastic & fake materials. Water buffalo and cow are common domestic animals in our areas. Their horn and bone are harvested when they die naturally after a long and productive life as a working member of Vietnamese families. We never do anything cruel or harmful to buffalos & cow.

All our products are handmade by skilful artisans and craftsmen coming from Traditonal Craft Villages in the North of Vietnam who have got their traditional craft skills from farther to son. We have a creative, qualified and experiened designer team who can design all the models up to client's requirements.

Our collection is regularly updated, therefore please kindly often visit our website for the new upcoming designs.
| | |
| --- | --- |
| Business type | Manufacturer |
| Primary industry | |
| Main products | |
| Area served | Worldwide |
| Bikudo member since | January 2023 |
Frequently asked questions
Q. Can I view your price online?
No. we do not public our price as the price depends on your order quantity. The more you order, the better price you will get from us.

Q. How can I order?
Just send us a code list of your interested items to our email artexim@gmail.com for quotation. After receiving your quotation request, we will get back to you and if our price meet your demand, you can place an order with us.

Q. What is your minimum order quantity (MOQ)?
• Natural colour: 5 pcs/sets per colour of each design
• Lacquered colour: 10 pcs/sets per colour of each design
• Dyed horn colour: 10 pcs/sets per colour of each design

Q. What is your minimum order amount?
Minimum order amount is not required

Q. Can you do custom for my own designs?
Yes, we can. Please email us at artexim@gmail.com for your custom design requests.

Q. How many colours can you make?
• With Natural Horn colour, there are five basic natural horn colours: Black, White, Brown, Black with white grain, Grey matt (We will email to you colour table for your choice)
• With Lacquer colour, we can make almost colour according to PANTONE or RAL colour table
• With Dyed horn colour: Dyed colour is not as abundant as lacquer colour. We can dye some basic colour (will email to you colour table for your choice). The beauty of dyed colour is that you can see horn grains. With the same colour that is dyed at the same time, but finished colour may look different from pieces to pieces; because horn is natural material, colour and patterns may vary. This is the natural beauty of dyed horn colour which lacquer colour does not have
The colour of the products on this website is only the recommended colour, we can change to another colour according to your requirements

Q. Why are there so many earrings on your website that don't have hangers?
We will hang steel hooks when shipping to you.
In case, you prefer ear-stud buttons to steel hooks, we will hang ear-stud buttons for your earrings. However, please be informed in advance that ear-stud buttons are much more expensive than steel hooks

Q. Can I cancel my order? What is your cancellation fee?
Yes. All orders canceled after production has begun will incur a cancellation fee of 50% of the total order value.

Q. What is your payment term?
A deposit of 50% of the total order value is required to process your order. The rest of the total value plus shipping cost and other charges (if applicable) must be paid before we ship the order to you.

Q. What methods of payment do you accept?
We accept payments via Wire Transfer, Western Union & PayPal.

Q. Do you charge sales tax?
We do NOT charge sales tax on any orders.

Q. What is your delivery time?
Delivery time depends on your order size. However, it normally takes 3 to 4 weeks, depending on the size of your orders and also how many styles do you order in total. There may be delays due to high volume times, so please plan ahead and order as early as possible.

Q. What shipping carriers do you use?
To ensure that your orders arrive safely and promptly, we partner with extremely reliable shipping carriers, offering express air service with state-of-the-art tracking system such as DHL or FedEx, UPS...

Q. What are your shipping rates?
After confirming your order, we will calculate shipping rate and keep you informed. We take it for sure that our shipping rates are very reasonable due to our long-time partnerships with the shipping companies.

Q. When will you send me tracking information?
As soon as your package is shipped, you will receive an email notification confirming the shipment along with the tracking number. You can track your order online by then.

Q. Am I responsible for import taxes, duties and fees in my country?
Yes, all import taxes, duties and fees incurred in your country are your responsibility. You are encouraged to contact your local customs bureau to inquire about possible import taxes and other charges

Q. What is your returns policy?
We accept returns in case of our errors, such as defective or wrong items, within 10 days after the date of receipt.