Emulsifier E472E
| | |
| --- | --- |
| Category | Food Emulsifiers |
| Country of origin | China |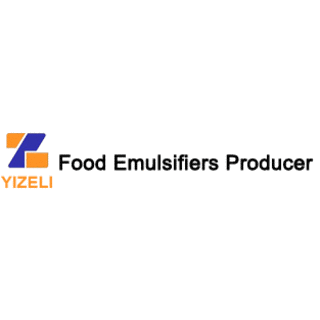 Zhengzhou Yizeli Industrial Co Ltd
The International Chemical Center, Erqi Distric, Zhengzhou City, Henan Province, China
Description
E472e, we called it as DATEM, the full name is diacetyl tartaric acid esters of mono-and diglyceride, its molecular formula is C29H50O11. CAS no. 100085-39-0.

E472e is a milky to yellowish powder or granular, soluble in hot water, is a non-ionic emulsifier. HLB value: 8 - 9.2. And it usually used in bread as bread improver.

As the food emulsifer producer in China , we can control the specs well as clients required. Attached our usual tech index:

E472E in bread:

1. Combined with the hydration of gluten completely, making gluten network stronger, and more extensible and elastic.
2. Form a complex with starch to prevent swelling and loss of starch and improve the characteristics of starch.
3. Enhance dough flexibility, toughness and gas retention, reduce dough weakening. The product has larger volume and good elasticity.
4. It is helpful to stabilize the dough after normal wake-up, so that the dough has a reasonable oven rise, a higher proportion of volume and a more symmetrical appearance.
5. prevent starch aging, keep moisture and extend the shelf life of products.

Packaging in: net 25 kgs cartons or drums.

Shipment: as buyers required or within 10 working days.

Shipping port: Any of China ports.

FAQ

Q. Why the bakery products can be use the 80% DATEM?
In general, the bakery products need the powderful food additive, and the DATEM100%, its size is big, usually 40 mesh, not easy to use in flour.

Q. Why is the emulsifier E472e easy to caking together?
It has low melting point, about 45 degree centigrade, so, it is easy to caking.

Q. How to avoid the DATEM caking together?
Store DATEM in to low temperature warehouse; or add some anti-caking agent;then, use the liquid form DATEM.

Q. Do we have liquid DATEM?
Yes, we have liquid DATEM, it is used in bakery or non-dairy creamer.

Q. What is the MOQ for Liquid DATEM?
The MOQ is 16 MTS, with 20' FCL quantity.