Cake Gel Emulsifiers
| | |
| --- | --- |
| Category | Compound Emulsifier |
| Country of origin | China |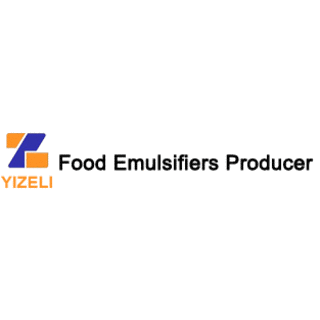 Zhengzhou Yizeli Industrial Co Ltd
The International Chemical Center, Erqi Distric, Zhengzhou City, Henan Province, China
Description
Good quality Cake Gel Emulsifiers PRODUCT DESCRIPTION Cake gel emulsifier is made from Propylene Glycol Esters(E477)&Glyceryl monostearate(E471) &Polyglycerol esters of fatty acids(E475), it is white –off white powder, used for product the cake gel.

Appearance:

Bread improver makes the dough touched soft, flexible, smooth, easy to operate; Can improve the proofing activity obviously, Have the good expanding activity, the specific volume is increased about 40-70%, The bread inner structure is evenly, taste soft, and elasticity, the fresh life can be extended. Dissovle it in water or add it into the flour directly.

The recommended adding amount :0.1%~0.3%。

The bread improver, its ingredients list as the followed:

Product Name: BREAD IMPROVER
ASCORBIC ACID: 5%
FOOD EMULSIFIER: 25%
ENZYME: 5%
STARCH: 53%
MOISTURE: ≤12%

Index:

Moisture %: ≤12.0
ash %: ≤30
Heavy metals(Pb)%: ≤0.0010
Arsenic (As)%: ≤0.0003

Package: Aluminium foil bags. Net weight: 25 KG/CTN(5*5KG).

LIGHTSPOT:

Advanced production technology, advanced automatic control production, guarantee the quality stability and consistency of our products, our food emulsifier, quality is guaranteed, choose our emulsifier, you choose high quality, stable, choose rest assured.

FAQ

Q. What is the ingredients list for bread improver?
ASCORBIC ACID:3%;AMYLASE:2%;XYLANASE: 3%;LIPASE:0.5%; GLUCOSE OXIDASE:0.5%;Food emulsifiers: 30%;CORN STARCH: 31%;SOYBEAN FLOUR: 30%.

Q. In this improver, what do the food emulsifiers use in?
Usually, we compound the DATEM, DMG, SSL and so on.

Q. Use this product, need to add the yeast or not?
In our ingredinets, we did not compound the yeast in to this bread improver, so,during using this bread improver, need use the yeast as your formulation.

Q. What is baking ingredient function?
Improve the mouthfeel, and given good internal orginize.

Q. This compoud additive, can make the bread whiter?
Yes, it can make bread whiter.