Datem Emulsifier (DATEM) E472e Cas No.308068-42-0
| | |
| --- | --- |
| Category | Food Emulsifiers |
| Country of origin | China |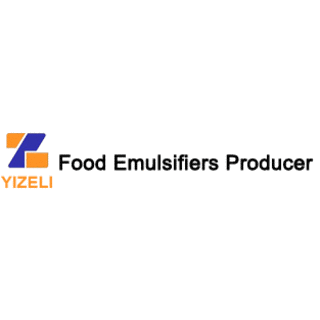 Zhengzhou Yizeli Industrial Co Ltd
The International Chemical Center, Erqi Distric, Zhengzhou City, Henan Province, China
Description
Characters:

Diacetyl Tartaric Acid Esters of Mono and Diglycerides(DATEM) is easily soluble in hot water. It is ivory or straw yellow powder or granular solid whichIt is a non-ionic emulsifier with HLB value of 8-10. INS code is 472e,E code is E472e, we usually call it as DATEM , or DATA ESTER. PH value is about 4.

Applications: Diacetyl Tartaric Acid Esters of Mono and Diglycerides can produce strong effects such as emulsification, dispersing and aging resistance, so it can be used as good emulsifier and dispersant. 1. DATEM can react with amylose to delay and prevent the food aging, keep the shelf life longer. 2. DATEM can be used in cream to make it smoother and finer, improve the taste. 3. It can be used in butter and concentrated butter to prevent oil separating and enhance its stability. 4. Emulsifier E472e can also be used in sugar, syrup and spices. 5. Used in non-dairy creamer to make the emulsion homogeneous.

Increase the springiness, toughness and gas-holding capability of dough effectively, reduce its softening degree, increase volume of bread and steam bread, and improve their organization and structure.

Usage: 1. Put DATEM in warm water at about 60℃ to get paste shaped substance, and then use it in appropriate proportion. 2. Dissolve this product in oils or fats homogeneously before further processing. 3. For using DATEM directly mix it with flour. Recommended Addition Amount: For raw dried flour products and raw wet products, the recommended dose is 1%; For non-dairy creamer dose is 5%. The addition amount can be changed based on production need for cream and fermented milk.

Technical Index:

Acid value (Calculated by KOH) / (mg/g): 65-85
Saponification value (Calculated by KOH) / (mg/g): 390-450
Total tartaric acid(W/%): 10-40
Total glycerol(W/%): 11-28
Total acetic (W/%): 8-32
Free glycerol(W/%): ≤2.0
Ignition residue (W/%): ≤0.5
Pb/(mg/kg): ≤2

Packaging:

Aluminium foil bags vacuum packaging. Net weight:25KG/CTN(5 KG *5)

Storage & Transportation: Prevent from moisture and caking. Sealed and stored in the low temperature, dry, cool and well-ventilated place. Forbid storing and transporting with materials that is explosive, combustible or deleterious. The shelf life is one year.

Advantage of our production:

Advanced production technology, advanced automatic control production, guarantee the quality stability and consistency of our products, our food emulsifier, quality is guaranteed, choose our emulsifier, you choose high quality, stable, choose rest assured.

FAQ

Q. Are you a trader?
No, we are not a trader, ZHengzhou yizeli industrial co., ltd is a food emulsifeirs producer in China, we producing and exporting food emulsifiers.

Q. Do you have compound emulsifiers?
Yes, we produce compoud emulsifiers, such as cake gel emulsifiers and so on.

Q. For the DATEM, what is the HS code?
DATEM's HS code is: 3402130090.

Q. What is the quantity shipped by 20 FCL?
It is about 14 MTS without pallets, 12 MT with pallets.

Q. Where do you export products?
We export our food emulsifiers products worldwide, such as ASIA, USA, EUROPE and so on.

Q. Does the DATEM have others names?
Yes, it has the followed names: Diacetyl tartaric acid esters of mono- and diglycerides, DATEM emulsifier,E472e emulsifier, E472e, (DATEM)Diacetyl tartaric acid esters of mono- and diglycerides, DATEM and so on.

Shipment information:

20' FCL quantity: package with 25 kgs cartons, total 5 kgs *5 pcs bags in side, or total one 25 kgs bags inside, withut pallets, total quantitiy is 14 MTS; with pallet, total 12 MTS.

40' FCL quantity: same as above, total quantity is 25 MTS, without or with pallets.

Use our packagings, the MOQ is 5 MT, OEM, the MOQ is 14 MT.

OEM: can print your cartons with your request, or stick the paper labels.

Product type:

At present,we have DATEM100% and DATEM80%, DATEM95%, DATEM90% and so on, according your different usage, we can recommend your the right type to you , such as the bakery products, we can recommend the DATEM100%, DAETM80%, DATEM90%, DATEM95%, but for non-dairy creamer, you can use the datem100% only.

According to the DATEM character, we produce the liquid DATEM, if your local temperature is high, you can consider the liquid DATEM , easy to use in your products, avoid to caking together.